November 6, 2019
COGEN'S 2019 YEAR END GIFT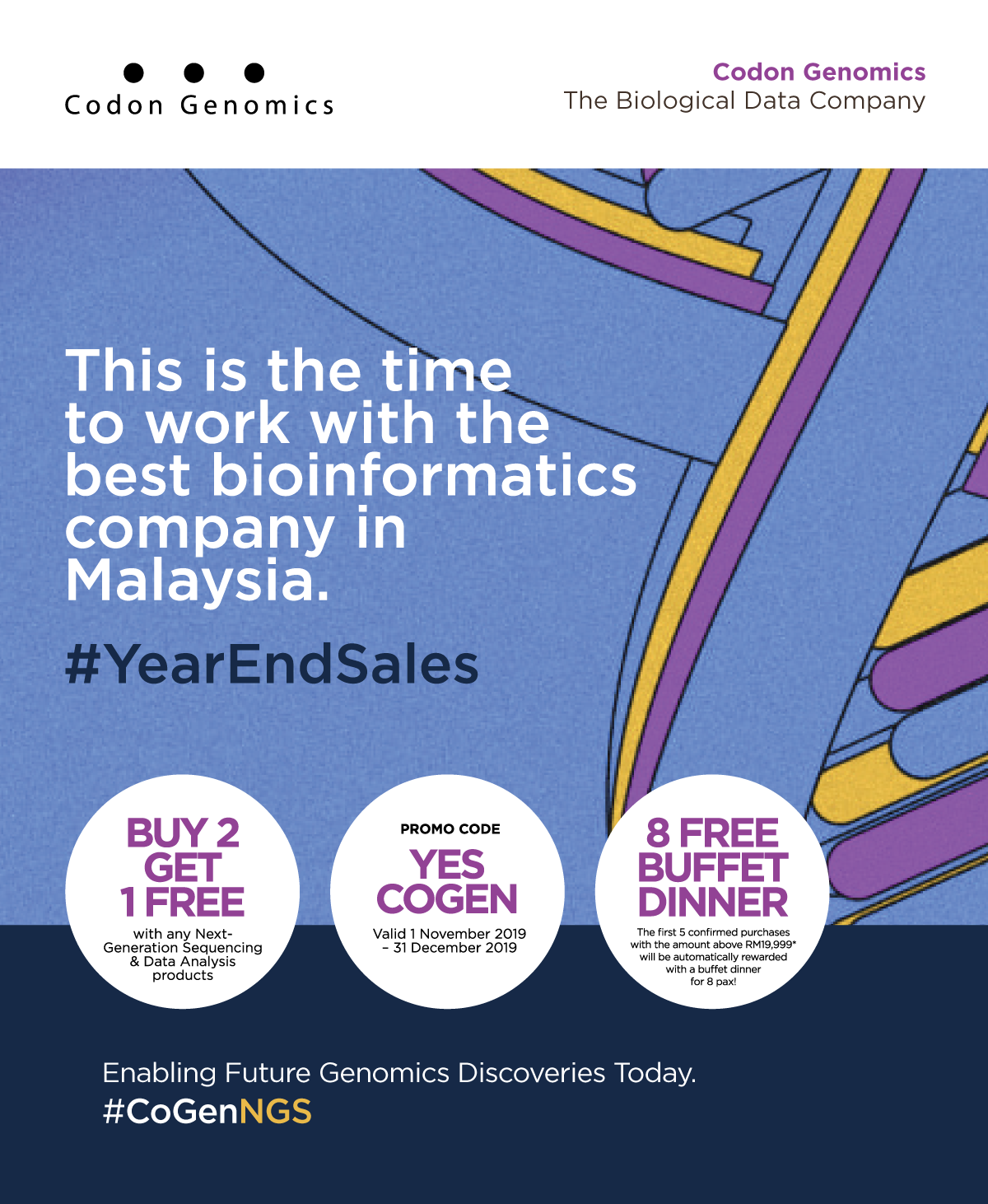 Welcome to the exciting world of Next Generation Genome Sequence Informatics. At Codon Genomics we are proud to be passionate in finding the most meaningful and efficient ways to breathe life into massively high throughput data analysis. Our unique business model of providing customized bioinformatics expertise to clients on an elastic basis enables biologist to focus on answering real biological questions rather than circumventing complex computational roadblocks. Clients include major life science research institutes who wish to use genomic data to uncover a myriad of discoveries currently possible with genome data.
Terms and Conditions apply:
• YES promotion is valid until 31st December 2019.
• YES promotion is not eligible to be used in conjunction with any other promotions or discounted offers.
• YES promotion is not applicable for metagenomics applications.
• YES promotion is only applicable for sequencing throughput of 1Gb for the free sequencing category.
• Codon Genomics have a strict No Refund policy.
• Price quoted are excluding government tax.
• Promotion subject to change without any prior notice.
• Samples must pass required quality according to sample quality requirements before proceeding to sequencing.
• Data must pass required quality standards before proceeding to the first step of analysis.
• Project must be completed within 12 months from the date of Purchase Order or else it will be considered lapse automatically. No refund will be entertained.
• Codon Genomics and its affiliates are not liable to any claims from and against any and all losses, expenses (including reasonable legal counsel fees and expenses, costs, liabilities, or damages to which any party may be subject as a result of any claim, demand, action or other proceeding by any third party arising out working with Codon Genomics.
• For research use only.
Our Story
Codon Genomics was founded in 2010 as a local breed genomics startup in Malaysia. The Codon Genomics team brings together professional and experienced molecular biologists, bioinformaticians and software engineers to provide better data solutions for researchers through the convergence of information technology (IT) with cloud technology for biological studies.